It is a well accepted concept that no matter how important your message is for patients and your audience, it will not be read if it's not engaging.  So the question becomes, how do you create a post that is both relevant and engaging to your viewers?
The answer is appropriate insertion of GIFs.
You must admit.  The GIF above caught your eyes.  No matter how much the words were meant to convey a message, the image was mesmerizing and your eyes kept coming back to it.  Does that mean your message won't get read?  No, it is meant to keep viewers from clicking off your site out of boredom.
What is a GIF?
A GIF, which originally was termed graphics interchange format, is a digital composite of multiple images or video clips to create short animations.  Just think of the pad you had when you were younger and you drew an image on each page which was slightly different.  Then when you flipped the pad, your drawn image seemed to move.  The thing is, you can get the moving image to convey a message in an extremely short time frame.
They also create a break in long word copy and attract attention. They increase engagement and also click-through rates.  While it may be inappropriate in white papers or patient guides, it is ideal for blog posts and social media.
How to Find your Perfect GIF
There are several sites offering GIFs for you to download and embed.  The ones that I like to peruse are:
GIPHY– the site that I find most useful. Searching through their data base is easy and many categories are available to seek out the desired image
GIFbin– standard keywords are available and you can see which ones are the most popular or trending. You can filter thumbnails by newest, top rated and most viewed.
Hulu– powered by Tumblr, there is a GIF gallery with 3 filtering options (shows, actions and reactions). Featured tags enable you to search further.
Reddit– has several categories including reaction which shows an emotional response, analogy which shows how I would feel in a situation, high quality and dance.
Reaction GIFs– shows images for almost anything that you feel or think. The dropdown box shows a specific feeling that you could search through.
Animal GIFs– who can resist a cute kitten or puppy antic? Best Usage of GIFs
Strategy for insertion of GIFs include:
Using them when they create value
Inserting GIFs when they convey a feeling or help support your message
Avoid using too many moving images- your message won't get read
Now that you know how to go about obtaining and inserting GIFs, how fun with it!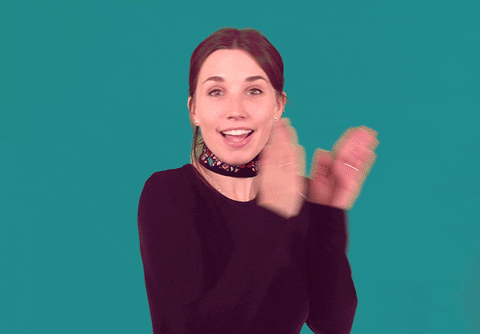 Still have questions or would like your post written for you?  Call me at 516-647-3002.