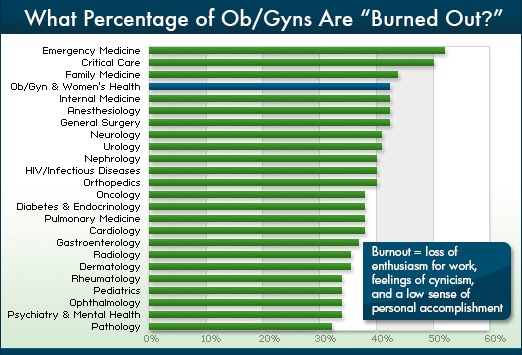 In 2012  an article appeared in the Archives of Internal Medicine showing that according to a national survey,doctors in the United States had more burnout than in any other career showing at least one symptom- loss of passion for the work they do and a decreased feeling of accomplishment.  Medscape performed a current survey and found that specialists in Ob/Gyn felt burned out 42% of the time.  The highest rate of burnout were suffered by those dealing with chronic or severely sick patients (critical care and emergency room).  The ones that were least susceptible to this were psychiatrists, pathologists, pediatricians and rheumatologists.
Stressors cited by discouraged doctors in the survey include:
excessive workload
loss of control over the profession,
inadequate compensation
"too many bureaucratic tasks"
"spending too many hours at work,
"the present and future impact of Affordable Care Act,"
"feeling like just a cog in the wheel,"
compassion fatigue
In a Medscape Primary Care roundtable discussion, Roy Poses, MD, of Brown University said, "Most interventions meant to improve burnout have treated it like a psychiatric illness, not a rational response to a badly led, dysfunctional healthcare system."
In the Archives of Internal Medicine survey,[1] physicians were asked about work-life balance; those practicing preventive medicine, dermatology, and general pediatrics gave the highest satisfaction ratings, whereas those in general surgery and its subspecialties, as well as obstetrics/gynecology, reported the lowest rates.
With an average of 13 paid vacation days per year, Americans are far worse off than those in other developed countries (eg, Italy, 42; France, 37; Germany, 35; United Kingdom, 28; Canada, 26; Japan, 25). US physicians don't fare much better than their American patients. And those who are burned out do worse than their peers. About 37% of burned-out ob/gyns take only 2 weeks of vacation, if not less, each year compared with 25% of their peers. And only 14% of burned-out ob/gyns take 4 or more weeks compared with 29% of their happier peers.
According to Paul Griner, MD, author of The Power of Patient Stories: Learning Moments in Medicine, "If you are not spending relaxed time with your loved ones, having some fun outside of work, or enjoying interpersonal relationships, you are at a greater risk for burnout." Like all ob/gyns, burned-out ob/gyns have a high rate of marriage or life with a domestic partner (84%), but this is slightly lower than the percentage for their less stressed peers (88%).
___________________________
With stress in medicine at an all time high between electronic medical record conversions and Medicare reimbursement slashing along with increased expenses, the level of doctor care and doctor-patient relationships may now start to suffer.  As a physician, one must remember to step back and see what is important- family and health.  Pursuing this will allow you to then passionately pursue your career as well!
Has burnout been an issue for you?
Comment in the box below.