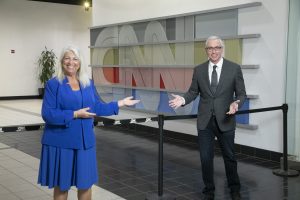 Dr. Drew and Dr. Barbara Hales at the CNN Center, Atlanta
Meeting with Dr. Drew (aka David Drew Pinsky) was a great opportunity to hear him ask  "What is it that you want to do?  Is it to just build a practice, become a media celebrity or use the media to do good as a means to how I practice my craft?"  You must be clear about this.
Dr. Drew shared his personal story about how he got into the media "by accident" in 1983. His intention was not to be a celebrity.  He had an internal medicine practice, emergency practice and outpatient medical practice.  He ran services in a psychiatric hospital as well which morphed into running an addiction service.
As you can tell, Dr. Drew was quite busy!
The media sought him out to hear the thoughts of a physician and he has become quite involved in radio and tv over the years.  He now runs the show Dr. Drew After Dark where people can ask questions for medical solutions. You can find his episodes on YouTube.
I found Dr. Drew to be quite informative and entertaining.  If you see some of his shows, you will readily agree!